The importance of a good low carb grocery list is finding a detailed food or ingredient list that is going to meet a wide array of necessary dietary needs while also avoiding the all too common carbs that can sneak in through grains, starches, and many common foods that appear in a wide array of meal options.
Part of what helps is thinking about the main types of high carb foods or ingredients that need to be replaced, as well as quality foods that meet the high fat or high protein diets that often go hand in hand with a low carb eating plan.
Non-Root Vegetables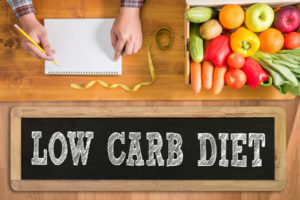 Vegetables are going to be high on any low carb grocery list. Root vegetables that are high in starch like yams or potatoes should be avoided since these are exceptions to the general veggie rule, but most non-root vegetables are going to be great for low carb diets, and are generally just healthy food anyway. Spinach, greens, lettuce, tomatoes, cucumbers, eggplant, most squash, cauliflower, there are a really wide array of different vegetable types that are going to be excellent options on a low carb diet.
Find a few favorites, and don't be afraid of trying new recipes. Cauliflower can be used to make some very convincing fake mashed potatoes while a lot can be done with squash and zucchini based on preparation.
Avoid Most Fruit
Most fruit is very high sugar and needs to be avoided. Tomatoes and avocados are the two most common exception as these are great additions to salad or various meals that have good fat and protein but low carbs – especially the sugar based carbs most fruit contains. Olives are another fruit that can be eaten in limited amounts.
Watch for Treated Meats
While meat is going to be a major feature of virtually any low carb diet, individuals need to be careful about what type of meat they take. While food like bacon or ham can be fully acceptable, this does not apply to things like honey glaze or brown sugar. These types of treatment add sugar which adds carbs. This can make foods that otherwise would be fine suddenly turn high carb in nature.
Sausage is one meat in particular that really needs to be carefully watched, as well. Often times the meat will also contain filler like rice or wheat – which defeats the purpose of eating more sausage in order to go more low carb.
Get the Right Dairy And Fats
The type of oil matters. Canola and seed based oil often counteract other positive aspects of a low carb diet but fat heavy oils like olive, coconut, macadamia nut oil, or butter are fine for a low carb eating plan and can help add flavor while helping individuals feel more full after a meal, as well.
Dairy is a strange one as most diets with have a positive list of dairy as well as a forbidden list. Generally speaking cottage cheese, cheese, feta, and sour cream is approved while milk and most yogurts are not.
Follow these basic shopping list rules for putting together a grocery list, so you are focused on the foods you need to buy when you walk into a store. By being focused on just what you need, you are less likely to make bad choices and chances are the diet will be a success.