There is a lot of emphasis put on the idea of eating clean these days, but what does that really mean? Clean eating is touted by some as a way of losing weight, and while it does work for some people, if you don't understand portion control or you pick the wrong 'clean' foods you could still end up struggling to lose weight.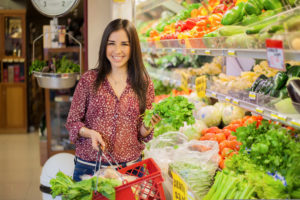 The idea behind clean eating is that you avoid processed foods and junk food in favor of whole foods – nuts, fruits, vegetables, lean meats, etc. This can work for many people but nuts are calorie dense, and so are avocados. Fruits are high in natural sugars, and if you drink a lot of fruit smoothies you could be taking in far more calories than you think! For this reason, following a clean eating diet isn't guaranteed to help you lose weight. You need to think about the calories in what you're eating, and also the macronutrient balance.
Some people find that a clean eating diet works for them because they are forced to stick to foods that are nutrient dense and that are 'healthy' – if they're allowed to eat sugary snacks or junk food then they over-indulge.
Clean eating forces a person to think about what they eat and to prepare foods that are healthy. It's harder to snack if you can't just reach for a chocolate bar. For this reason, many people are able to avoid over-eating. They won't eat mindlessly if to snack they need to get a carrot out of the fridge, wash it and slice it.
Advocates of clean eating talk about how it boost their health and wellbeing, and gives them better skin and hair, staves off diseases, etc. For many people, this is probably true – because eating clean will make you more likely to get all of the micronutrients that you need. However, modern processed foods are fortified with vitamins and minerals so it is actually quite hard to be deficient in the main nutrients if you are eating a balanced diet, even if it is not a 'clean' one.
In short, clean eating is not a magic bullet. It is not bad for you, but it is not going to cure all ills or automatically make you healthy either. It is something that can work for athletes and for people who want a little extra push or a way to avoid temptation when losing weight. But, it can backfire in people who already have emotional associations with foods.
Once you start labeling foods as good or bad, rather than thinking about quantities or how those foods make you feel, it can become tempting to binge eat, and people are less likely to stick to their diet because they feel deprived. If you want to succeed in your diet, then you will need to think of it as a long-term lifestyle choice – something that you will keep up with, and not have to think about after months or years.