Admitting to yourself that you want to lose weight is not so hard, but actually doing it is. If it's not your first time wanting to do this, then you probably know two things quite well already. First, exercise alone doesn't cut it. Second, dieting often results in a quick crash of five to 10 pounds but doesn't prove sustainable.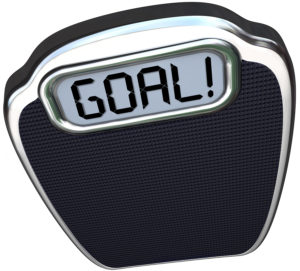 Motivation is what keeps a diet going past that initial weight loss. So many individuals start a diet, see their numbers go down, and then get off track because they at least got something done. Sustainability means using the right combination of diet motivation tips and we have four easy ways that you can stay the course and be successful in your goals.
Establish Practical Goals
Creating a realistic objective for your diet plan should take place before you deprive yourself of even a single calorie. The knee-jerk reaction to just 'lose weight' can spring you into actions that drop 5 or 10 pounds, and maybe even 20. However, a realistic goal can carry you past this. Having said that, aiming too high sets you up for failure, so don't plan on losing 30 pounds in three months. Instead, aim for a benchmark you can hit, like going down one dress size or even just one belt hole. Attain that goal, then use the new confidence to keep going.
Aim Small, Miss Small
Successful dieting means creating practical lifestyle changes you can sustain over time, so results aren't going to happen in one weekend. If you cut back so much that you get irritated, you're risking a higher rate of failure. Dropping 200 calories a day is just enough that you won't miss that much food, but it's just enough to trigger a token amount of weight loss.
Don't Go It Alone
Making serious changes to your lifestyle is really difficult to accomplish if you're going solo. If you can find someone else, or even more than one person, with identical or similar goals, partner up with them. Consider Overeaters Anonymous, online support groups, or your local Y or gym all as places you might find diet buddies you can rely on for motivation when yours dips. Helping them when their own motivation wanes can also make good practice and positive thinking for yourself.
Keep A Balanced Perspective
Your inner perfectionist might kick in early and often, but it's also possibly your biggest enemy in the battle of the bulge. You have to treat yourself to splurges routinely or you're not going to keep up the enthusiasm needed for your diet. On the other hand, don't let a splurge get you down so much that you finish the bag of chips you started.
These diet motivation tips are far from the only ones out there, but they should be enough to get you started. Once you master them, keep looking for more and use all you learn until you hit and maintain your target weight.