Studies have repeatedly shown that a low carb diet is one of the most effective ways to lose weight. However, cutting carbs from your diet won't just have a positive impact on your waistline. Low carb diets also offer significant health benefits. Cutting back on carbs can improve your health in a number of ways.
Lose More Visceral Fat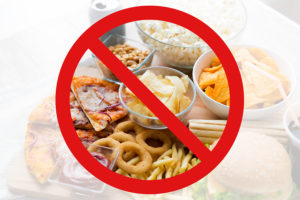 The body stores fat in two different places. There is subcutaneous fat, which is stored under the skin, and there is visceral fat, which is stored in the abdominal cavity, around the organs. Visceral fat is far more damaging to your health than subcutaneous fat is.
Researchers have found that reducing carb intake is one of the most effective ways to encourage fat loss. In addition to that, studies have shown that low-carb diet followers are more likely to lose fat around the abdomen.
You'll Reduce Your Blood Sugar And Insulin Levels
When we consume carbohydrates, our body breaks these carbs into simple sugars. Once the carbs enter the bloodstream, your blood sugar and insulin levels can increase. This can be extremely dangerous for people that suffer from diabetes.
Eating fewer carbs can bring your blood sugar and insulin down to healthier levels. A low carb diet can help you to manage your diabetes, and it can also reduce your risk of developing type-2 diabetes. Doctors have found that diabetic patients who cut carbs usually have to reduce their insulin dosage immediately.
Lower Blood Pressure
High blood pressure is linked to a number of serious health conditions, including heart disease, organ failure, and strokes. For many patients, high blood pressure is linked to high LDL cholesterol levels. LDL collects in the walls of blood vessels, which can lead to blockages.
People that cut carbs from their diet tend to see a dramatic decrease in their LDL levels. Reducing carbs can also increase your HDL levels. HDL is a healthy cholesterol that carries harmful cholesterol away from your organs. Anyone that's trying to manage their cholesterol levels should take a closer look at low carb diets.
Healthier Brain
Our brains tend to deteriorate as we age. This puts us at risk for conditions like dementia and Parkinson's disease. Thankfully, you can reduce your risk of brain disorders by making changes to your diet.
If your carbohydrate intake is extremely low, your brain will enter a ketogenic state. Researchers believe that entering ketosis has neuroprotective effects. Studies also show that ketones can increase energy production in the brain, which means you'll be able to think quickly and keep your mind sharp. Researchers have also found that cutting carbs can inhibit major sources of neuronal stress.
If you've been considering a low carb diet, you won't just want to look at the weight you will lose. You'll also want to look at how a diet like this will impact your overall health levels. Following a diet like this can help your body in so many ways. A nutritious low carb diet can be great for your health.