The body naturally neutralizes and eliminates harmful substances from the system on a continuous basis. These substances consist of waste products that are toxic to body tissues like lactic acid, ammonia, and homocysteine derived from normal cellular activity, as well as chemical substances from the consumption of contaminated food and water, or environmental pollution. The organs of the body like the kidneys, liver, skin, lungs, and the blood and lymphatic systems all work together to transform these toxins into less harmful components that can be eliminated by the body.
What are Detox Diets?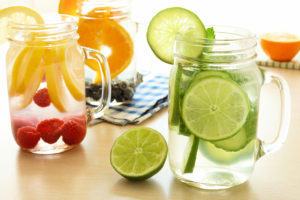 The term 'detox' was primarily used in relation to the treatment of patients with alcohol or drug dependence but has lately been used to refer to strict, short-term diets to facilitate the removal of toxic substances from the body that are thought to cause certain health problems and excess weight. It is believed that headaches, skin problems, fatigue, and many digestive problems are caused by toxins that are ingested and breathed in every day. The goal of a diet for detoxing is to help the body get rid of an overload of toxins, thereby restoring it to a more natural state of health that functions better.
Detox Diet Plans
A detox plan is quite restrictive and requires the avoidance of certain foods that are thought to increase toxicity in the body. Basically a detox consists of a low-calorie, mostly liquid diet with the goal of helping the body cleanse itself of accumulated toxic substances. Because of its restrictive nature, it should only be used for a short period of time and is not recommended for people with serious health conditions that may be complicated by a rigorous diet.
There are several types of diets you can use to detox, but the most basic principles are the same involving a couple of days of fasting on water alone, followed by ten days of a monotrophic diet of one fruit at each meal three times a day. Some detoxes allow a large glass of vegetable juice like carrot juice between lunch and dinner time. After a period of 12 to 14 days of the basic diet, there follows a period of easing into a more normal diet with only raw food for a few days, after which other foods are slowly re-introduced into the diet. At this stage it is usually an opportune time to introduce a lifestyle change by eliminating or cutting down drastically on refined foods, sugar, and saturated fats and replacing it with clean, healthy, organic vegetables, fruits, nuts, seeds, and legumes.
Many foods consumed on a daily basis by unsuspecting people contain hidden toxins such as chemical food additives, pesticides, hormones, antibiotics, and even mercury. Since the point of detoxing is to eliminate harmful toxins from the body, certain foods should be shunned in favor of more healthy options after the detox. Other harmful substances that should be avoided are: alcohol, tobacco, pharmaceutical and recreational drugs, caffeine, supplements with too many additives, and overly processed foods. All whole, unprocessed and unrefined foods in their most natural state are the best foods for a healthy lifestyle and a body that's in good shape.
Some detox diets include complete body cleansing methods to aid the detox plan such as herbal concoctions, detox baths, saunas, laxatives, and enemas. Choose a plan that best suits your immediate and long-term requirements and monitor the reaction of your body to avoid feeling too uncomfortable during the detox.