Starting on a keto diet is a big step. It's a dramatic change in eating habits and diet choices, but it is a change with many potential benefits. For someone who has never tried a ketogenic diet before, it can seem overwhelming. That's why it can be helpful to follow a keto diet plan. These steps will put any dieter on the path to weight loss and better health.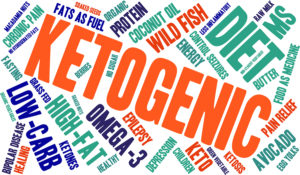 The trick with a ketogenic or "keto" diet is to get your body burning fats for energy instead of sugars. This is done by cutting all of the sources of carbohydrate energy out of the diet and replacing them with high-fat, moderate-protein options. The state the body enters when it is burning fat for energy is called "ketosis".
The first step is figuring out the starting point. That includes current weight, body fat percentage, and BMI. With these numbers, a dieter can then work out their own personal macronutrient needs. There are plenty of great calculators out there to figure out these numbers based on a dieter's statistics.
According to studies, the average American woman today is 5'4″ and weighs about 150 pounds. Using those numbers, a weight loss diet should include around 1400 calories per day for a lightly active 30 year old. This average woman should be eating 125 g of fats, 20 g of carbohydrates, and 67 g of protein per day to enter ketosis.
Step two is to plan out all the meals and low-carb foods for snacks between meals. This planned list will be an easy resource to help make good, low-carbohydrate choices.
Low carbohydrate foods include unprocessed meats (pork, beef, chicken, and fish), as well as full-fat dairy like sour cream and cream cheese. This goes against everything most people have been taught about what makes up a healthy diet. That's why it's good to have a planned list in advance for easy reference. It helps keep a new keto dieter from getting confused.
There are plenty of easy and delicious choices and they don't even have to be expensive. A sample diet for one day might include scrambled eggs with cheese for breakfast, chicken breast with herb butter sauce for lunch, and bacon-wrapped meatloaf for dinner.
A ketogenic diet is by definition a meat-heavy diet. It is possible but very difficult to eat a vegetarian or vegan keto diet. Dieters that are committed to eating diets without animal products may need to find another way.
The final step is just to get started! Armed with the right numbers and a resource list of foods and meals, any dieter can succeed with keto.
Of course, be sure to check with your doctor before starting any major diet change. This diet may not be right for people with certain medical conditions. Once the doctor says okay, it's time to launch your weight loss and health journey.